Pump Stations - Sewers for Adoption overview
Mon 29 Jul 2019
On 6 September 2010 the government decided that 'most' private sewers and pumping stations that form part of the nations' sewer system which connect to the public sewer network should be transferred to the ownership of the regulated water utility companies in England and Wales.
New pumping stations are now regulated by the new, 8th edition of Sewers for Adoption created to give guidance on the design and construction of Sustainable Drainage Systems (SuDS) that may be considered for adoption under Section 104 of the Water Industry Act 1991.
The utility companies were not necessarily aware of all privately owned pumping stations located within the area that they serve. If you learned about this transfer after 1 October 2016 and you own a potentially eligible pumping station, you should contact your utility company as ownership may have already been transferred to them.
You have a number of options which PumpServ can give you 'free' impartial advice regarding your choices and what you can & cannot do. Basically, if your pump station is already adopted by your local water authority, it is their responsibility to keep it maintained and in full working condition.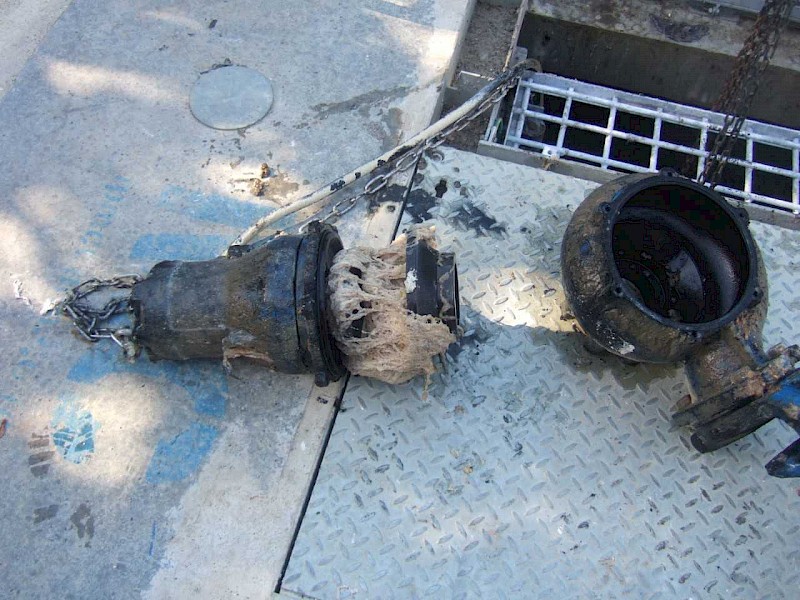 If you have a pump station that serves more than one property that was not transferred as a result of this process, you can still request that your utility company adopts it, however you will need to contact them and it is possible that the company may refuse to adopt the station, or place conditions on the adoption. This can include very costly works to bring the station up to an acceptable standard.
It is not a legal requirement that the station is adopted, however, the continued responsibility for operation and maintenance will be yours. The advantage of having the station adopted is that you will no longer have any cost for servicing, maintenance or replacement when required.
Still today, the biggest problem encountered by any pump or pump station is the build-up of solids. This is extensively due to 'wet wipes' (see image above), which bind together and block even the largest of solids handling pumps. There are options that will greatly reduce this problem by selection of the correct pump and associated equipment for the required duty.

Author: Matthew Evans, PumpServ General Manager, Sewage & Wastewater division - Tel: 01420 571 255

PumpServ is an independent distributor representing the major pump brands including Grundfos, Wilo, Xylem, Armstrong and Dab and is one of the top 3 independent distributors in the UK. The company has strategically located staff around the UK for the supply and servicing of commercial heating and chilled water pumps, pressurisation units through to waste water and drainage pumping stations across a wide spectrum of industries.
PumpServ provides a 24 hour / 365 days a year emergency breakdown service and expert staff are always available to help with enquiries and provide technical assistance.

https://pumpserv.co.uk/service-centres/wastewater-pumps/